— Evolution of Laser Therapy — Take Your TerraQuant Laser to the Next Level…

An outstanding offer for Laser Therapy Practitioners who are interested in taking their practice to the next level.
INTRODUCING – the World's First FDA Cleared
Combination Laser Therapy and Electric Stim Device,
which produces incomparable results and allows for insurance reimbursement. Provides an immediate plug and play Diagnostic/Laser/Stim System. Easy, Effective and Reimbursable.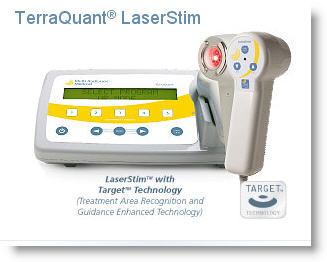 Laser-Stim: The Ultimate Cold Laser And Diagnostic Tool
The LaserStim Cold Laser is like no other laser on the market. The LaserStim is unique because, in addition to providing cold laser therapy and electrical stimulation, it has special programming that helps the user to locate damaged tissue. It enables the clinician to identify areas of inflammation-showing optimal treatment areas. During treatment, the LaserStim constantly measures the patients tissue and alerts the user to problem areas by changing the lights on the emitter head from green to red. The red light indicates an area that needs treatment so this feedback helps users find problem areas. Treating deep tissue damage has never been easier. This patented technology called TARGET (Treatment Area Recognition and Guidance Enhanced Technology) gives practitioners a look inside their patients body. No other cold laser sold offers this kind of tool.
TerraQuant LaserStim: Super Pulsed Laser-Neuro-adaptive
eStim and TARGET Technology Benefits:
The TQ LaserStim is designed for clinicians dealing with patients who suffer with chronic conditions such as osteoarthritis of the joints, back and neck pain, frozen shoulder, sciatic pain and pain associated with acute injuries. Great for patients who have an artificial knee or hip replacement or other metal implants. Can also be used to treat acute pain such as a recent injury, pain following fractured bones, inflammation, & post-surgery. The LaserStim TARGET technology provides an interactive neural stimulation by constantly measuring electro-conductivity of treated tissue.
Treats acute and chronic pain using fixed stainless steel electrodes that can be moved over the skin to identify optimal treatment points
Locates tissue characteristic changes-showing optimal treatment areas
Provides immediate treatment for acute injury
Allows a high level of treatment specificity
Provides hands-on interactive treatment
Avoids nerve accommodation
Enables optimal rehabilitation
Can stimulate A-delta and C-fibers
Constantly changing impulses, avoiding accommodation
TESTIMONIAL:
"Multi Radiance Medical has introduced the first Cold Laser that actually has the ability to locate and treat inflammation. It gives the doctor a big advantage because the patient can actually see and feel the treatment."
Arlan W. Fuhr, D.C. Co-Founder and CEO,
Activator Methods International, TerraQuant device owner
The LaserStim is a patented hybrid emitter for the FDA Cleared TerraQuant Laser Therapy System

The LaserStim comes in a Package with a TQ Base unit or as a stand alone emitter for those who want to add onto their existing TQ Base. It encompasses a total of 5 forms of electromagnetic healing energies. It also allows for the patient to finally be able to feel the laser treatment through the electric stimulation, which clearly had added benefits both physically and psychologically. With the Laser-Stim, powered by Multi Radiance Technology, you can now receive insurance reimbursement for this attended combination modality. In addition to being the most advanced laser emitter cleared by the FDA, the LaserStim will assist you in identifying the optimal treatment locations. Simply move the electrodes in a controlled scanning motion to reveal areas of low impedance.
The LaserStim emitter provides clinician feedback in a number of ways such as: readings on the screen, audible beeps, color changes and changes in fluidity as you scan.
To take advantage of this exceptional offer, grow your practice and increase your bottom line, please call a laser specialist toll free at 1-888-824-7558 or Continue your research ONLINE